CARNIVAL VENEZIA IS NOW ON THE ROAD TO NEW YORK, THE FIRST OF ITS JOURNEY FROM EUROPE AND WILL START 'CARNIVAL FUN ITALIAN STYLE' FOR THE FIRST TIME.
President Christine Duffy Welcomes First Guests
Carnival Cruise Line welcomes its first guests to experience "Carnival Fun Italian Style" aboard its newest addition to the fleet, Carnival Venezia. The ship has started its journey to New York City in Europe. It left Barcelona for a two-week cruise on May 29 and will arrive at its new port in Manhattan on June 13.
Carnival president Christine Duffy greeted the first guests aboard the Barcelona cruise ship on Monday. Duffy joins guests and friendly Carnival crew on the first leg of the cruise.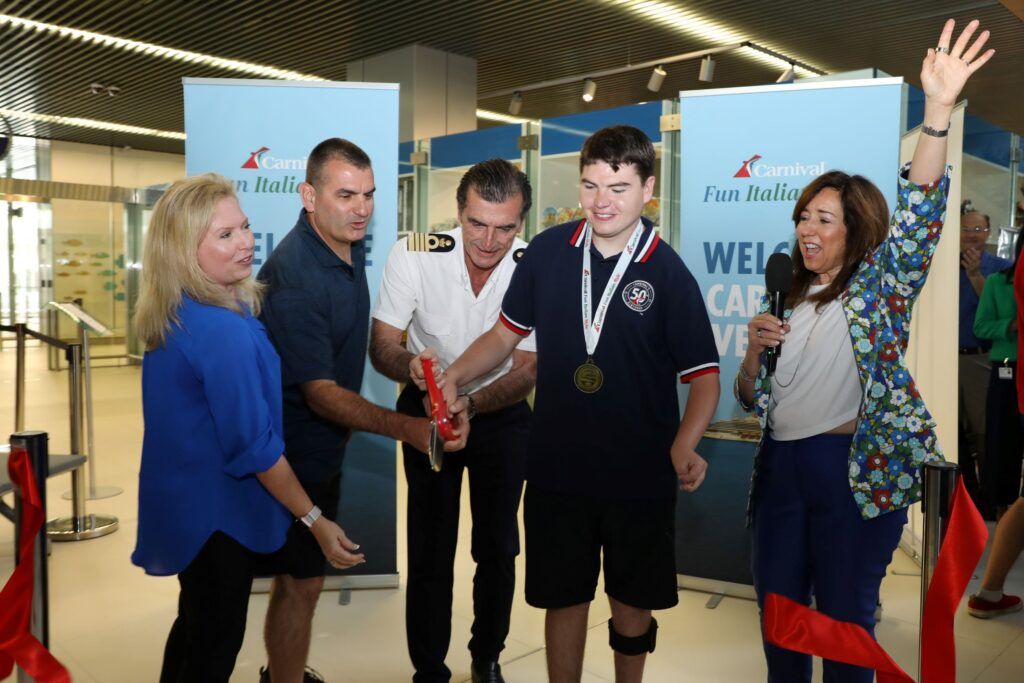 "Following a major expansion, Carnival Venezia looks and feels like part of the Carnival family – with an Italian theme and unique flair that I know our guests will appreciate," said Duffy. "I'm looking forward to experiencing some 'Carnival Fun Italian Style' with our first guests and can't wait to welcome the train to New York."
More on Carnival Venezia
Carnival Venezia is the first ship to introduce "Carnival Fun Italian Style." Special treats, such as a special Captain's Venetian Toast and an Italian street party will serve guests. In addition, much of the ship's central design serves as a tribute to the city of Venice, Italy, which inspired new ideas and programs.
Along with the deep Italian themes, Carnival Venezia also introduces several new food and drink options. This includes a special restaurant, "Il Viaggio," which promises a culinary journey of local dishes and drinks.
The ship also has a number of Carnival amenities that guests know and love. These include Guy Fieri's Guy's Burger Joint, steakhouse Fahrenheit 555, Bonsai Sushi & Teppanyaki, and Chef's Table. There is also Piano Bar 88 and Heroes Tribute Lounge.
The ship's first voyage from New York, a four-day voyage to Bermuda, is scheduled for June 15, 2023. From its home port of New York, the ship will operate 10 different cruise times and 22 special itineraries that include destinations in 25 ports in 14 countries.
In winter 2024, Carnival Venezia will once again depart from New York on a 12-day Southern Caribbean cruise to Port Canaveral. Here, the ship will begin deployment to Florida before returning to New York in Spring 2025.
To see all the cruises currently on sale at Carnival Venezia, click here.
SOURCE Carnival Cruise Line
Comments
Are you excited to hear that Carnival Venezia is heading to New York? Have you booked a cruise to experience "Carnival Fun Italian Style"? Leave us a comment below to share your thoughts on this train concept.
Stay informed with the latest travel news and travel updates!