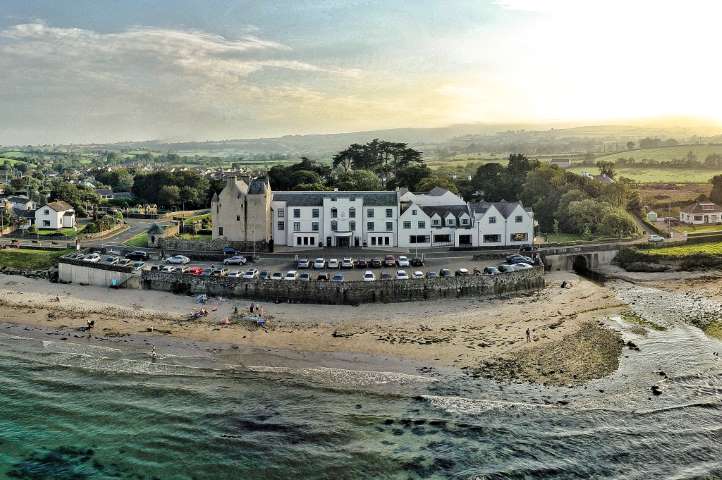 Overlooking the golden sands of Ballygally Bay and with uninterrupted views across the Irish Sea, the seventeenth-century Ballygally Castle is one of Northern Ireland's finest hotels.
And with the waves only a short walk from the hotel's doorstep, it's the perfect place for water lovers to take a dip in the Irish Sea.
The hotel has created and launched a special night package that combines a dip in the sea with hot sips in the house.
The Sea Dips & Hot Sips package includes everything guests need for a fun and relaxing stay including use of the property's dry robes, a hot water bottle, slippers, and a bottle filled with the hot beverage of their choice.
"We wanted to offer a unique experience for both veteran and professional swimmers that combines the excitement of the Irish Sea with the comfort of our castle. After a refreshing dip or swim, guests can return to the castle and warm up with a hot shower in their upstairs room with ESPA toilets. And in the morning there will be a full Irish breakfast," said Scott Weatherup, General Manager of Ballygally Castle.
Ballygally Castle is a popular stop on the Causeway Coast and makes a great base for those keen to explore the many famous sights along the scenic route. These include the Giant's Causeway, Dunluce Castle and Carrick-a-Rede cable bridge.
The wonderful Gobbins Way is a short walk south where the beautiful Glenarm Castle and Walled Garden are just a stone's throw from the beach.
The Causeway Coast is a part of Game of Thrones® that boasts many of the filming locations for the blockbuster series. Pretty Ballintoy Harbor became the Iron Islands, the Cushendun caves featured as the Stormlands and the dramatic Glens of Antrim were a stunning backdrop for many of the scenes in the series.
Ballygally Castle has its share of Game of Thrones® history as one of the 10 doors that make up the Journey of Doors. The stunningly painted doors show moments from Season 6 and were carved from trees shot under the famous Dark Hedges that doubled as Kingsroad. They live in restaurants and pubs across Northern Ireland.