EXPLORA TOUR OFFERS EXPLORA I
The delivery of EXPLORA I took place on July 20, 2023 at the Fincantieri shipyard in Monfalcone, Italy.
The first voyage will depart on August 1, 2023 from Copenhagen to Reykjavik with stops at Lerwick, Shetland Islands and Kirkwall, Orkney.
Explora Journeys will offer a sailing experience that allows travelers to celebrate their discoveries and reconnect with what matters most.
Explora Journeys, the luxury lifestyle brand of the MSC Group, has officially taken delivery of the EXPLORA I from the Fincantieri shipyard. This is the first ship to join the brand.
The launch event for EXPLORA I will be a new theme for the brand. One that offers today's discerning traveler a more flexible and demanding cruise experience than any other.
Gianluigi Aponte, Founder and Chairman of MSC Group; Pierfrancesco Vago, Chairman of the MSC Group's Cruise Division, the goddess of the ship Zoe Africa Vago, of Fincantieri Pierroberto Folgiero, Chief Executive Officer and representatives of the MSC construction group together with managers and employees of the shipyard are attending the maritime event.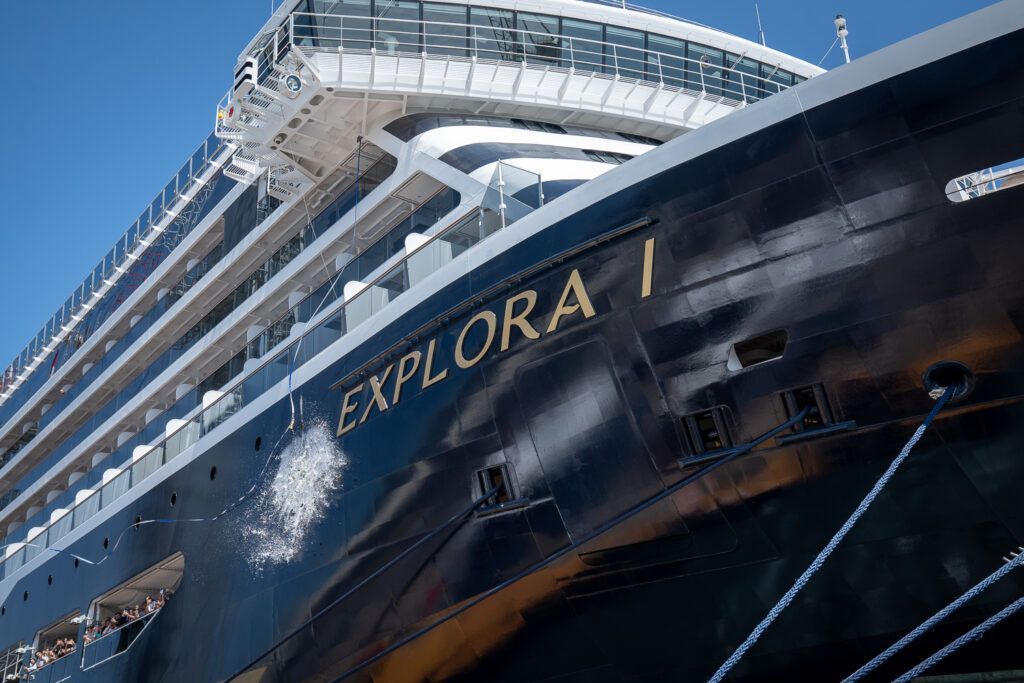 Pierfrancesco Vago, Executive Chairman, Cruise Division, MSC Group, said, "Today is an unforgettable day, and it represents a milestone in our growth, as it marks MSC Group's entry into the luxury cruise sector. This sector has the prospect of strong growth, in which we strongly believe and which we want to redefine, always looking for excellence and excellence. "
Michael Ungerer, CEO, Explora Journeys added, "This traditional sailing event is an important moment in Explora's journey as we will be able to show off our much awaited new ship. We have pushed the boundaries of innovation and design to create a ship that embodies our commitment to excellence. With the delivery of EXPLORA I our vision of providing unparalleled luxury experiences has become an unimaginable reality. We invite our guests to embark on transformative journeys, offering opportunities to discover both inside and outside the sea, resulting in physical, intellectual and spiritual rejuvenation. We call this 'Ocean State of Mind'."
See Method I
EXPLORA I will depart on its maiden voyage from Copenhagen, Denmark on August 1, 2023. This seven-night cruise will take guests through the beautiful Lerwick, Shetland Islands and Kirkwall, Orkney before heading to Reykjavik, Iceland.
This luxury train will spend several weeks in Northern Europe, offering a variety of tours, both on and off the beaten track. It will cross the Atlantic via Greenland to spend the autumn in North America and the winter in the Caribbean. The ship will spend the spring on the US West Coast and Hawaii before returning to Europe in the Summer of 2024. Throughout the voyage the ship will call at off-peak ports so that guests can enjoy authentic experiences.
The ship will offer cruises from seven to 11 nights that are all inclusive. An excellent host will ensure a comfortable morning and an enjoyable evening. Unusual arrival and departure times and an overnight stay in port will give guests the opportunity to experience a once-in-a-lifetime experience on a leisurely cruise.
More on Explora Journeys
EXPLORA seamlessly combines Swiss beauty with European technology. The thoughtful design of the ship inspires the imagination and promotes the 'Ocean State of Mind'. The brand is informed by the family's European roots, style, and unique approach to design and beauty.
EXPLORA II is being built at Fincantieri's shipyard in Genoa Sestri Ponente, Italy. The ship will enter service in August 2024. EXPLORA III will be the first of two LNG-powered ships to join the Explora Journeys fleet in 2026 and EXPLORA IV in 2027.
All Explora Journeys ships will feature the latest environmental and marine technologies. These include selective mitigation technology, shore power plug connectivity, underwater noise control systems to help protect marine life, and a wide range of marine energy resources.
SOURCE Explora Tours
Comments
Are you excited to hear that Explora Journeys is taking over Explora I? Do you have plans to travel on this new luxury cruise line with MSC Group? Leave us a comment below to share your thoughts on this new trend.
Stay informed with the latest travel news and travel updates!