Far away, it might seem like fun for an author to travel around the country signing books for fans in every city he goes to. But in Doug Stanton's case as No. 1 New York Times best-selling author, it can be more like an exhausting race than unpacking your luggage.
That's one reason Stanton and his wife, Anne, started the National Writers Series. The year-round festival in Traverse City invites writers to a different kind of public event that breaks the fun of the ordinary trip. Each event creates a space for writers and book lovers to breathe fresh air.
"It's not a Q&A. It's not a story. It's not a reading, which is all cheap," said Doug Stanton. "It's a conversation with the writer about their whole personality.
"We like to say that it's a stage conversation, one you might have late at night on a cross-country train. When the conversation goes well, it makes for a wonderful evening."
The National Writers Series has held nearly 250 events with writers over the past 13 years, drawing on the "huge rolodex" that Doug Stanton created by writing bestsellers including "The Horsemen," which was adapted into the movie "12 Strong" starring Chris Hemsworth. .
The series has become one of the nation's top events for travel writers and over the years has attracted writers including Tom Brokaw, Mitch Albom, Elmore Leonard, Janet Evanovich, Michael Connelly, Sophie Kinsella, Buzz Bissinger, Tess Gerritsen, John U. Bacon, Anna Quindlen, Peter Heller, Diane Rehm, David Sedaris, and many others.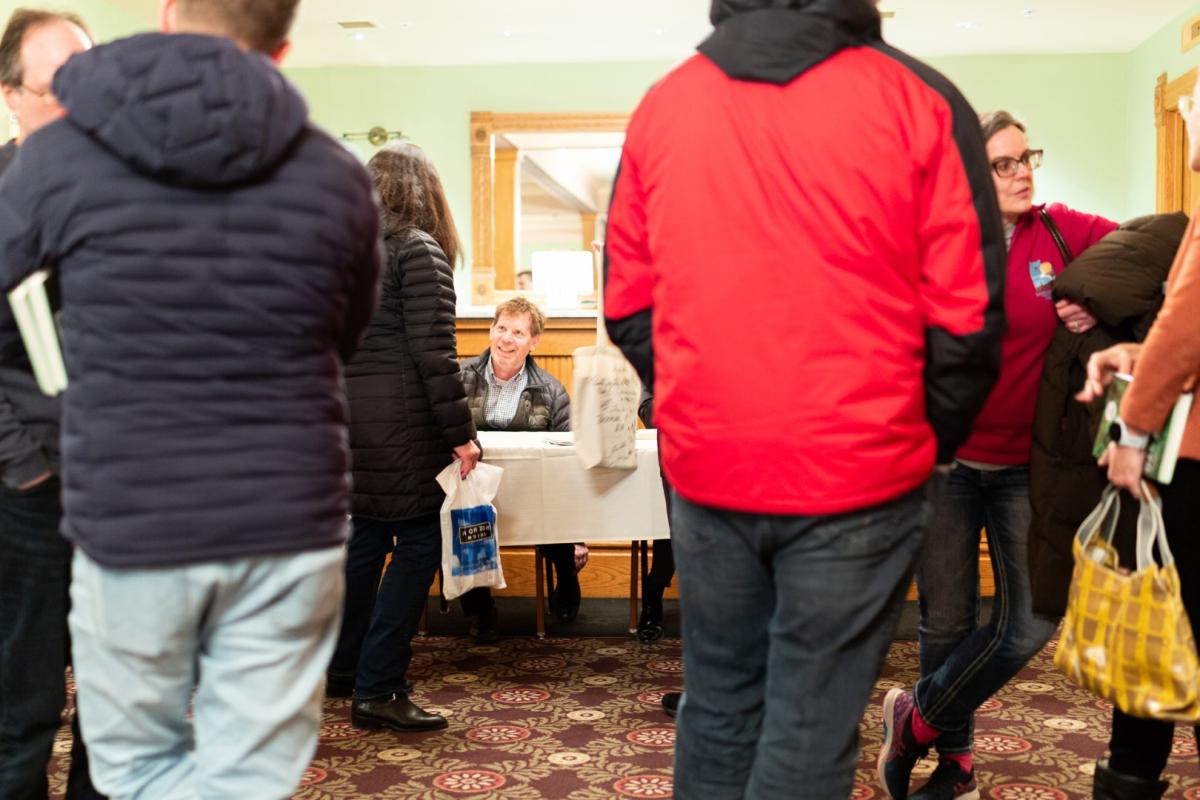 * Photo courtesy of National Writers Series artist Shawn Roach.
Eileen McNamara, the Pulitzer Prize-winning journalist and author of "Eunice," praised her experience with the National Writers Series as one that was "facilitated by gracious hosts, in wonderful settings, with the help of very passionate, humane readers. whom I have met everywhere."
And journalist Aarti Shahani, author of "Here We Are," said the interviewer in her National Writers Series appearance "threw me off my writing and made me dig deeper," making the event "one of the best tours in America." ."
"Believe me, I've done more than I can count – big and small, all over the world," says Steve Hamilton, Detroit-born mystery writer and creator of the Alex McNight series. "But if I could only do one for the rest of my life, it would be the National Writers Series."
About 70,000 people have listened to the National Writers Series events over the years, including more than 400 (both in person and online) earlier this month at an evening with David Egan, author of "The Devil's Element."
The series features one or two events per month throughout the year, and tickets are still available for the following events: